16 gauge GXL wire- 10 striped colors each 10 foot long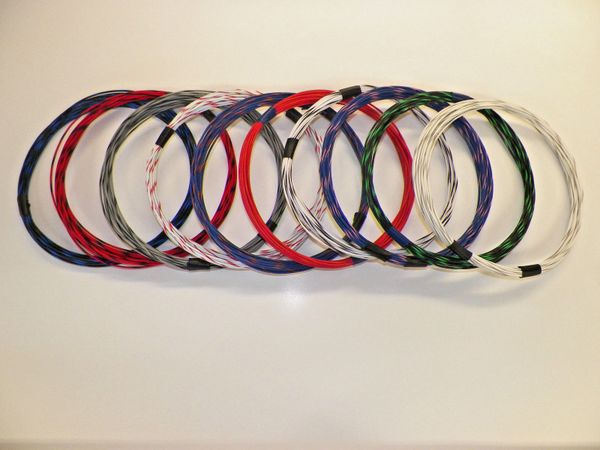 16 gauge GXL wire- 10 striped colors each 10 foot long
PLEASE READ CAREFULLY TO INSURE YOU GET WHAT YOU WANT

THIS LISTING IS FOR ONE HUNDRED FEET (100') OF STRIPED COLORED 16 GAUGE GXL AUTOMOTIVE WIRE IN TEN (10) TEN FOOT (10') PIECES EACH OF THE TEN DIFFERENT STRIPED COLORS SPECIFIED BELOW. NOTE THESE DO NOT COME ON SPOOLS.


THIS LISTINGS SPECIFIC COLORS ARE BLACK/BLUE,  RED/BLACK, GRAY/BLACK, WHITE/RED BLUE/ORANGE,  RED/ORANGE,  WHITE/BLACK, BLUE/PINK, BLACK/GREEN AND WHITE/GRAY
 VERY IMPORTANT NOTE: THIS LISTING IS FOR THE TEN COLORS LISTED BELOW BUT CHANGES CAN BE MADE IF YOU SEND US YOUR CHOICES AFTER THE SALE AND THEY ARE ON THE CHART BELOW.
SEND TO EITHER INFO@4RCUSTOMSWIRE.COM OR 4RCUSTOMS@GMAIL.COM
SO PLEASE READ AND PICK ONLY FROM OUR CHART

ALL OUR WIRES ARE NEW AND MADE IN THE USA ONLY AND READY TO SHIP SAME DAY IF IN BY 3PM EST
WE ARE THE ORIGINAL SMALL LENGTH WIRE SELLER AND CONTINUE TO DOMINATE WITH THOUSANDS OF SPECIAL SALES A YEAR TO OVER 140 COUNTRIES.
OUR CHART BELOW SHOWS THE COLORS ON HAND (SORRY BUT WE DO NOT MAKE THE WIRES SO WE ONLY STOCK WHAT IS ON THE LIST) WE CAN LOOK INTO GETTING COLORS WE DO NOT STOCK BUT MINIMUM ORDERS WOULD BE A MINIMUM OF 1,000 FEET AND TAKE 7-21 DAYS TO SHIP
WIRE STOCK ON HAND *** = LIMITED
| | | | | | | |
| --- | --- | --- | --- | --- | --- | --- |
|   |   |   |   |   |   |   |
| 16 gauge GXL (157) |   |   |   |   |   |   |
| BLACK | BLUE | RED | GREEN | WHITE | YELLOW | GRAY |
|   | BLACK STRIPE | BLACK STRIPE | BLACK STRIPE | BLACK STRIPE | BLACK STRIPE | BLACK STRIPE |
| BLUE STRIPE |   | BLUE STRIPE | BLUE STRIPE | BLUE STRIPE | BLUE STRIPE | BLUE STRIPE |
| RED STRIPE | RED STRIPE |   | RED STRIPE | RED STRIPE | RED STRIPE | RED STRIPE |
| GREEN STRIPE | GREEN STRIPE | GREEN STRIPE |   | GREEN STRIPE | GREEN STRIPE | GREEN STRIPE |
| WHITE STRIPE | WHITE STRIPE | WHITE STRIPE | WHITE STRIPE |   | WHITE STRIPE | WHITE STRIPE |
| YELLOW STRIPE | YELLOW STRIPE | YELLOW STRIPE | YELLOW STRIPE | YELLOW STRIPE |   | YELLOW STRIPE |
| GRAY STRIPE | GRAY STRIPE | GRAY STRIPE | GRAY STRIPE | GRAY STRIPE | GRAY STRIPE |   |
| ORANGE STRIPE | ORANGE STRIPE | ORANGE STRIPE | ORANGE STRIPE | ORANGE STRIPE | ORANGE STRIPE | ORANGE STRIPE |
| BROWN STRIPE | BROWN STRIPE | BROWN STRIPE | BROWN STRIPE | BROWN STRIPE | BROWN STRIPE | BROWN STRIPE |
| PINK STRIPE | PINK STRIPE | PINK STRIPE | PINK STRIPE | PINK STRIPE | PINK STRIPE | PINK STRIPE |
| VIOLET STRIPE | VIOLET STRIPE | VIOLET STRIPE | VIOLET STRIPE | VIOLET STRIPE | VIOLET STRIPE | VIOLET STRIPE |
|   |   |   |   |   |   |   |
| ORANGE | BROWN | PINK | VIOLET | TAN | LT BLUE | LTGREEN |
| BLACK STRIPE | BLACK STRIPE | BLACK STRIPE | BLACK STRIPE | BLACK STRIPE | BLACK STRIPE | BLACK STRIPE |
| BLUE STRIPE | BLUE STRIPE | BLUE STRIPE | BLUE STRIPE | BLUE STRIPE | BLUE STRIPE | BLUE STRIPE |
| RED STRIPE | RED STRIPE | RED STRIPE | RED STRIPE | RED STRIPE | RED STRIPE | RED STRIPE |
| GREEN STRIPE | GREEN STRIPE | GREEN STRIPE | GREEN STRIPE | GREEN STRIPE | GREEN STRIPE | GREEN STRIPE |
| WHITE STRIPE | WHITE STRIPE | WHITE STRIPE | WHITE STRIPE | WHITE STRIPE | WHITE STRIPE | WHITE STRIPE |
| YELLOW STRIPE | YELLOW STRIPE | YELLOW STRIPE | YELLOW STRIPE | YELLOW STRIPE | YELLOW STRIPE | YELLOW STRIPE |
| GRAY STRIPE | GRAY STRIPE | GRAY STRIPE | GRAY STRIPE | GRAY STRIPE | GRAY STRIPE | GRAY STRIPE |
|   | ORANGE STRIPE | ORANGE STRIPE | ORANGE STRIPE | ORANGE STRIPE | ORANGE STRIPE | ORANGE STRIPE |
| BROWN STRIPE |   | BROWN STRIPE | BROWN STRIPE | BROWN STRIPE | BROWN STRIPE | BROWN STRIPE |
| PINK STRIPE | PINK STRIPE |   | PINK STRIPE | PINK STRIPE | PINK STRIPE | PINK STRIPE |
| VIOLET STRIPE | VIOLET STRIPE | VIOLET STRIPE |   | VIOLET STRIPE | VIOLET STRIPE | VIOLET STRIPE |
|   |   |   |   |   |   |   |
HERE IS SOME INFO FROM THE MANUFACTURE
Type GXL Wire - Thin Wall (XLP)
Automotive Primary Wire
Type GXL Wire Construction: This a stranded wire not solid
Conductor:

Bare Copper

Insulation:

Thin wall Cross-linked Polyethylene (XLPE)

Colors & Print Options:

Available in solid colors or with stripes,

Type GXL Wire Features:
GXL Wire is intended for use in engine compartments where higher heat resistance is required according to SAE J-1128.

Recommended temperature range for GXL Wire is -51°C to +125°C.

Also meets Ford (M1L-85B) and Chrysler (MS-8900) specifications
Featured Products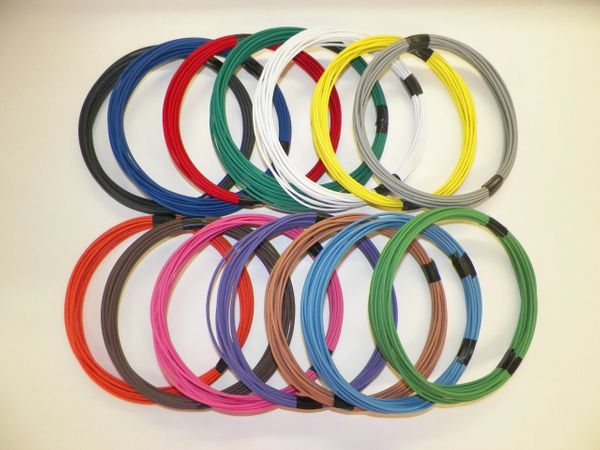 16 gauge GXL wire - Individual Solid Color and Size Options
$7.49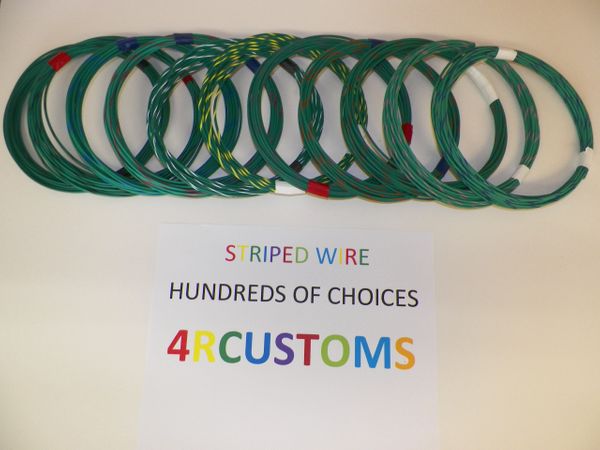 GREEN 18 gauge GXL wire - with stripe color and length options
$7.99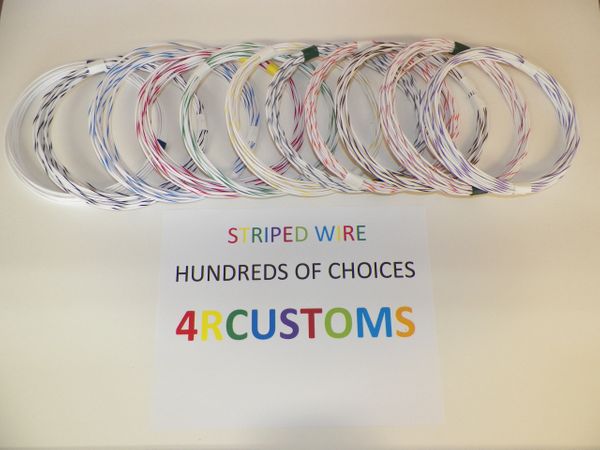 WHITE 16 gauge GXL wire - with stripe color and length options
$8.49