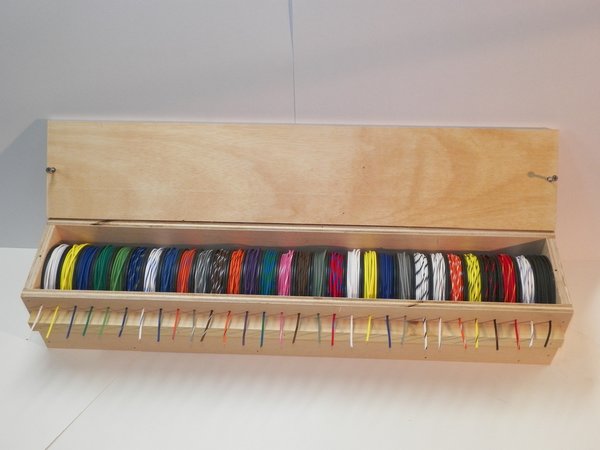 Shop Owner's Caddy
SPECIAL NOTE: THIS WEB SITE HAS NO WAY TO DO ACTUAL SHIPPING COSTS SO EMAIL US FIRST AND WE WILL FIGURE THE COST AND SEND YOU A PAYPAL INVOICE TO COVER THE WHOLE ORDER. FAILING TO DO THIS WE WILL HAVE TO CHARGE THE $100.00 COST IT IS SET AT NOW.

One of our most popular sellers is a shop owner's caddy that we designed with Harley colors in mind but can swap for any colors we have of your choice.
The Caddy is set to hold up to 30 different colors of 18 GXL wire ready to be pulled out and cut to length from a small area of your bench.
NOTE WE SELL A SPECIAL HARLEY COLOR CADDY KITS THAT COME WITH THE 30 MOST COMMONLY USED HARLEY COLORS AND WITH (FOR LARGE ONE)150 EACH MALE AND FEMALE TERMINALS FROM DEUTSCH AND MOLEX ALSO 20 FEET EACH 1/4-3/8-1/2 BLACK SHRINK + 300 PRE CUT 1/8X2 PCS AS A NICE SET UP TO DO 82-2013 HARLEY'S

THE SMALL HARLEY CADDY KIT COMES WITH THE SAME AS THE LARGE BUT ONLY 50 EACH TERMINALS WITH 10 FEET EACH SHRINK 3/8 AND 1/2 PLUS THE 1/8x2 PCS AT 150
ASK US TO SEND INFO ON WHAT COMES STANDARD IN THE HARLEY CADDY

Our small Caddy hold 10 foot long wire spools making it 300 feet in all and great for the do it yourself garage. Our large has 40 foot spools bringing it in at 1200 feet and great for small shops that do wiring for a living. This way we cover the do-it-yourself and the small pro shops.
These work as neat as your printer, just replace an empty spool with a new full one and you are on your way again.
BELOW ARE THE COLORS THE LARGE HARLEY CADDY COMES WITH AND YOU CAN REQUEST CHANGES IF DONE BEFORE THE SALE

Large Caddy # 1 includes
| | | | |
| --- | --- | --- | --- |
| COLORS | ONE 40' SPOOL | TWO 40' SPOOLS | SOME USES ARE |
| White 16 Ga TXL | * | | Head lights |
| Yellow 16 Ga TXL | * | | Head lights |
| Blue 16 Ga TXL | * | | Head lights |
| Green | * | | Pre 95 directional |
| Lt Green | * | | PTT / CB |
| Blue/Yellow | * | | PTT / CB |
| White/Blue | * | | Cruise |
| Blue/Black | * | | Cruise |
| Orange/Violet | * | | Cruise |
| Gray/White | * | | Radio |
| Brown/White | * | | Radio |
| Orange/Black | * | | Radio |
| Violet/Black | * | | Radio |
| Green/Blue | * | | Radio |
| Pink/White | * | | Radio |
| Brown/Black | * | | Radio |
| Gray/Green | * | | Radio |
| Red/Blue | * | | Stop light |
| White | * | | Head lights |
| Yellow | * | | Head lights |
| Blue | * | | Head lights |
| Gray | * | | Engine-run-off |
| White/Black | * | | Engine-run-off |
| White/Brown | * | | Right directional |
| Orange/White | | ** | Power-horn-directional |
| Yellow/Black | * | | Horn |
| Black/Red | | ** | Clutch -start |
| Red/Yellow | * | | Stop light |
| White/Violet | * | | Left directional |
| Black | * | | Clutch |
THE SMALL HARLEY CADDY HAS THE SAME COLORS

Featured Products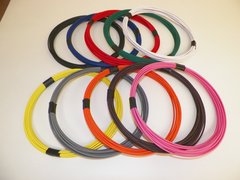 16 gauge GXL wire - Individual Solid Color and Size Options
$5.75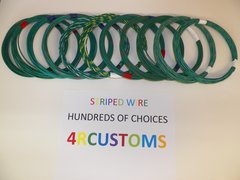 18 gauge GXL wire - Individual Green Striped Color and Size Options
$5.65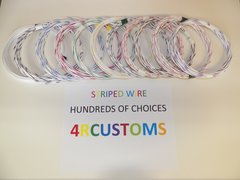 16 gauge GXL wire - Individual White Striped Color and Size Options
$5.75